Weddings with J & J Catering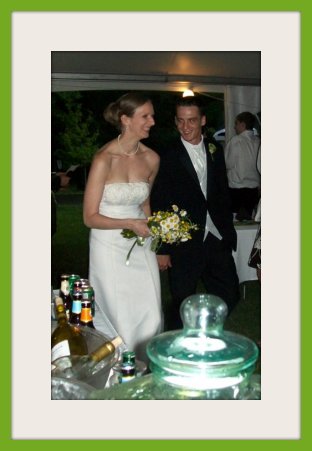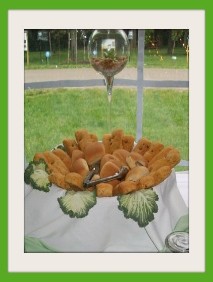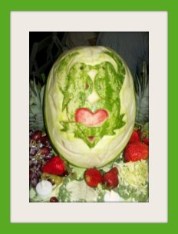 Weddingchannel.com Bride Review
posted 6/10/2010
The most common compliment we've received from our wedding is that "the food was amazing!" (Particularly the prime rib and mashed potato bar.) J & J Catering provided incredibly wonderful food, beautiful displays, and such support for us through the planning process that we cannot say enough about them. Their event coordinator, Kim Trenton, was just phenomenal. She was so patient and helpful for us through the entire planning process. The set up for our outdoor reception was breathtakingly beautiful. The food was so exquisite and expertly set up that it literally was everything we'd envisioned and more. The quote they provided versus the work they put in for us almost seems unfair on their end, it was so beyond reasonable. They could easily charge double and we would hire them again and again. Thanks so much to J&J! We owe our reception being such a huge success to them.
Wedding Feast Package A
Fresh Fruit Display
Lemon Chicken
Roast Beef with Demi Glaze
Roasted Red Skin Potato
Pasta Marinara
Green Beans Almandine
Fresh Garden Salad
Assorted Rolls
Please Contact
Event Coordinator at
440-669-6418 for Pricing Information.
Wedding Feast Package B
Fresh Fruit Display
Chicken a la Tosca
Roast Beef with Burgandy Sauce
Twice Baked Potato
Seasonal Vegetables
Pasta Sicilian
Homemade Caesar Salad
Assorted Mini Pastries
Click below to view Our Off Site Catering Menu in Adobe PDF
Wedding Feast Package C
Shrimp Cocktail
Crab Claws
Steak Dianne
Stuffed Scampi
Red & Gold Potatoes
Seasonal Vegetables
Risotto
Field Greens Salad
Chocolate Moose
Hazelnut Torte
Station Style Serving is the Newest and Hottest trend in Wedding Service.
Contact Kim to discuss just how unique your wedding menu can be.